Please note that many of our courses are now full for September 2023 starts.
Contact the Admissions team to find out about remaining places by calling 01946 839300.
Need some careers advice? Speak to our team – click here to book an appointment today!
Digital Accelerator Hub at Lakes College
A learning environment created in partnership with HM Government and Cumberland Council as part of the Workington Town Deal Project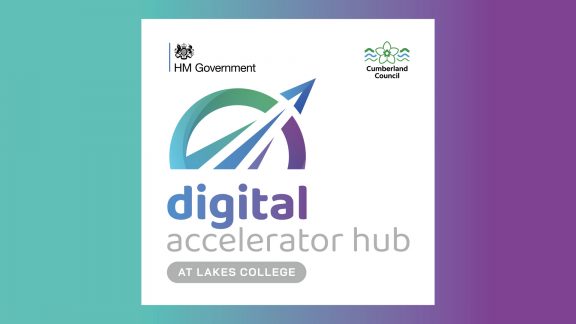 Text Intro
Ready to level up your digital skills?
Our brand-new hub prioritises skills and employability, boasting a range of state-of-the-art equipment which aims to to boost your skillset.
Digital qualifications are an important part of a modern-day CV, so we have a wide range of courses which are suitable for a wide range of learners. There's something for everyone at Lakes!
Courses we offer
Courses we offer
Our facilities
Take a look at our facilities…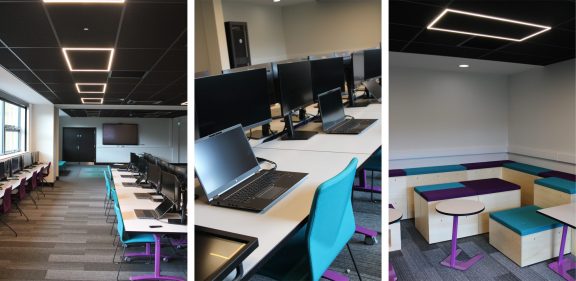 Workington Town Deal Project
Workington Town Deal Project
The Digital Accelerator Hub is the first Town Deal project to be completed in the area.
On 27 July 2019, the Prime Minister announced that the Towns Fund would support an initial 101 places across England to develop Town Deal proposals, to drive economic regeneration and deliver long-term economic and productivity growth.
A Town Deal is an agreement in principle between government, the Lead Council and the Town Deal Board. It will set out a vision and strategy for the town, and what each party agrees to do to achieve this vision.
Each of the 101 towns selected to work towards a Town Deal also received accelerated funding last year for investment in capital projects that would have an immediate impact and help places "build back better" in the wake of Covid-19.