Please note that many of our courses are now full for September 2023 starts.
Contact the Admissions team to find out about remaining places by calling 01946 839300.
Need some careers advice? Speak to our team – click here to book an appointment today!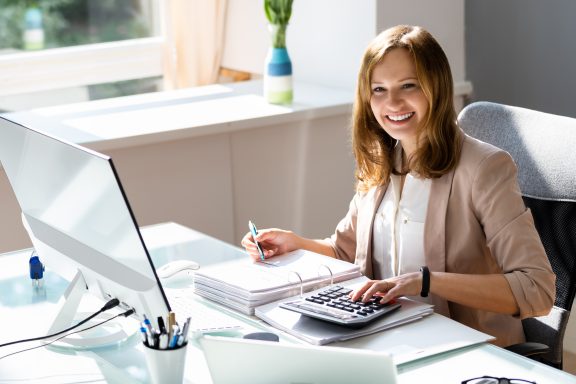 Information
Technical training in accounting
An Association of Accounting Technicians (AAT) course is ideal for anyone wishing to pursue or progress their career in accountancy or finance.
There's a suitable course for every level of experience, suitable for adult learners and career changes.
We offer three AAT courses at Lakes College:
Level 2 Certificate in Accounting (Online and On Campus)
Level 3 Diploma in Accounting
Level 4 Diploma in Professional Accounting

Level 2 Certificate in Accounting (Online and On Campus)
Level 3 Diploma in Accounting (September starts)
Level 3 Diploma in Accounting (February starts)
Level 4 Diploma in Professional Accounting (September starts)
Level 4 Diploma in Professional Accounting (April starts)
AAT is the UK's leading professional body offering skills-based accountancy and finance qualifications. Their qualifications are practical, internationally recognised and can open doors in any industry across the world.
AAT is open to everyone – you don't need previous qualifications or experience, and you can work at a pace that fits in with your lifestyle. Whether you're looking for your first job in accountancy, want to change careers, or simply want to enhance your existing accounting skills, AAT will give you the training you need.
AAT offers a range of benefits for students, including study support, topical news and updates, and exclusive discounts. AAT also offers an excellent route into chartered accountancy. If you choose to further your studies with one of the leading chartered professional bodies, such as ACCA, CIPFA or CIMA, your AAT qualification will give you generous exemptions. Your AAT qualification could also give you the opportunity to run your own accounting or bookkeeping practice.
We have partnered with Mindful Education to deliver the Level 2 Certificate in Accounting course through our flexible Online and On Campus model.
Online, you will study award-winning video lessons, which are available on demand, and can be viewed from your phone, tablet or computer – meaning you can choose how, when and where you want to study. Lessons last for around 45 minutes and are accompanied by animations and motion graphics to bring concepts to life. Practice questions, downloadable lesson materials and interactive case studies help to enhance the learning experience further and learners should expect to spend around 4-5 hours studying independently online each week.
On campus, you benefit from regular classes with a college tutor – without having to commit to attending multiple evenings each week. Your tutor will review what you have learnt during your online lessons and will be on hand to provide guidance on progress and assessment. Regular discussion with classmates will help to reinforce key points while also providing the additional support and motivation that comes from being part of a group.

Got any questions?
Our admissions team are here to help with any issues or concerns you may have regarding our courses.