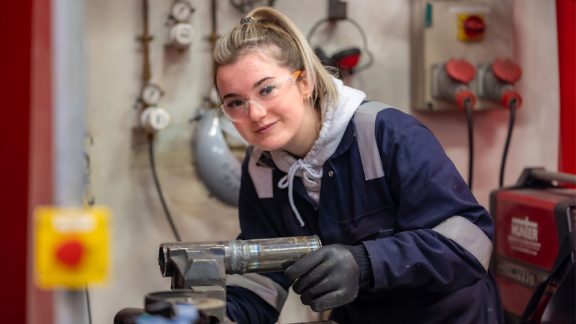 Introduction
An apprenticeship is a real job where you will learn skills, gain experience and get paid.
At Lakes College you can undertake an apprenticeship in a wide variety of different areas, including engineering, catering and hospitality, construction and building trades, business administration, digital skills and early years education.
We work with more than 700 employers in our region which ensures there is something out there for everyone and our apprenticeships can go up to full degree level so there is room for progression.
Lakes College Apprenticeships Video
While on your apprenticeship we can also support you with your maths and English skills so you can progress further in your career. Maths and English are vital skills for employment and for everyday life. Having a qualification in maths and English will open up more career opportunities, better education possibilities, a rise in salary potential and increase life satisfaction. At Lakes College we are committed to giving our students life skills and tools to reach their potential. We have a team of tutors who will work with you and help you achieve these essential qualifications so you can progress in your chosen field. If you're aged 16 to 18 and studying full time, English and maths will be at the core of your study programme at Lakes College, alongside your apprenticeship.
If you are under 19 years old and missed out on your English and/or maths entry requirements for your apprenticeship, we offer English and maths Functional Skills as an alternative, which aims to improve your literacy and numeracy skills.
An apprenticeship can be a stepping stone onto higher level education and university – alternatively, you could progress onto a degree-level apprenticeship, which is an alternative to traditional university study. Find out more.