Roadworks are set to be carried out at Harrington which will affect traffic to Lakes College starting from Monday, January 30th
The roadworks will last up to six weeks and students are advised to allow plenty of time to travel to college, especially on GCSE mock exam dates – Tuesday, January 31st and Thursday, February 2nd.
Stagecoach has recommended people catching a bus into college should get on an earlier bus, particularly at the start of the first week as disruptions are at their highest during the beginning of roadworks.
All bus passes including those issued by Cumbria County Council will be accepted if different routes need to be used.
Sign up to our Apprenticeship Academy now
Simply express your interest using the button below and we'll send you an application form to complete. The closing date for completed application forms is February 19th 2023.
Introduction

Our Apprenticeship Academy programme has been created with apprentices and local employers in mind – helping you to get a head start into your future career and 'earn while you learn'.
(Perfect for those who'd like to experience the world of work while studying their chosen subject!)
Step one (January/February 2023): Online application forms must be completed by February 19th.
Fill in the form to express your interest – click here!
Step two (February/March 2023): Depending on the requirements of the apprenticeship, candidates may be invited to aptitude testing to assess their suitability.
Step three (March 2023): You will be invited to attend interview skills and CV development training with the college in order to support their applications.
Step four (April 2023): Applications will be screened by Lakes College before being shared with employers, who will shortlist for interview.
Candidates who do not gain an apprenticeship at this stage will receive further support to pursue future opportunities and invited to an interview at college to discuss options.
Step five (May 2023): Lakes College will notify applicants who have secured an apprenticeship, followed by a formal offer sent by the employer subject to a school report or reference.
As above, any candidates who do not gain an apprenticeship at this stage will be supported by Lakes College with their options.
Step six: The employer will send detailed information relating to their apprenticeship programme to the candidate if they are selected.
Step seven (August/September 2023): Apprentices will start with their employer in September after an induction in August.
Apprenticeship Academy cards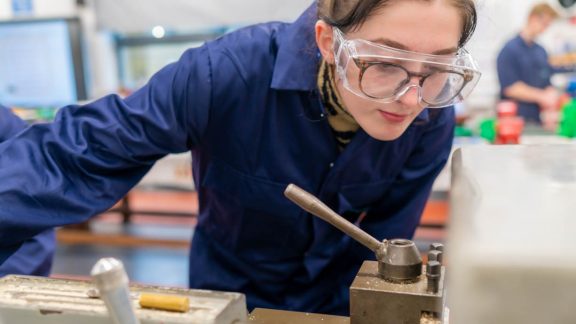 What is an apprenticeship?
An apprenticeship is hands-on training in the workplace where you earn while you learn.
Apprentices are supported by their employer and Lakes College, learning the knowledge, skills and behaviours to allow them to thrive in their role.
At the end of an apprenticeship, an End-Point Assessment is completed to confirm the apprentice has successfully achieved the required standard.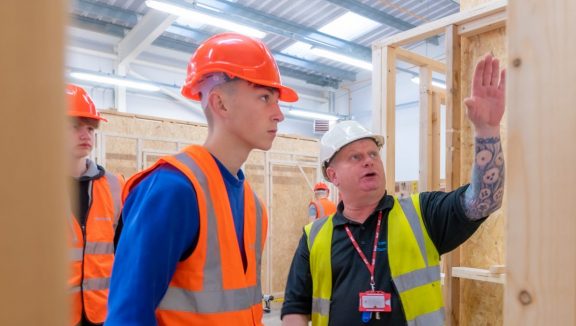 What is Lakes College's role?
Lakes College is the training provider, working with employers to recruit the right apprentice and supporting their development.
Our technically-qualified teachers and coaches deliver learning in college and in the workplace.
Lakes College supports apprentices throughout their apprenticeship to successful completion of the End-Point Assessment.
Apprenticeship Academy more cards

What is the employer's role?
The employer pays the apprentice's wages and provides on-the-job experience which meets the requirements of the apprenticeship.
This includes mentoring and support in the workplace, training opportunities and employment for the duration of the apprenticeship.

What are knowledge, skills and behaviours?
Knowledge, skills and behaviours are the core elements of an apprenticeship.
Knowledge makes up the theory and understanding of the work.
Skills are the practical and technical elements of completing the tasks.
Behaviours are the development of the apprentice's professionalism.

What is an End-Point Assessment?
The End-Point Assessment is the final stage of an apprenticeship.
An assessor, independent of the employer and training provider, will confirm the apprentice has developed the knowledge, skills and behaviours outlined in the apprenticeship standard for the role.
Employer logos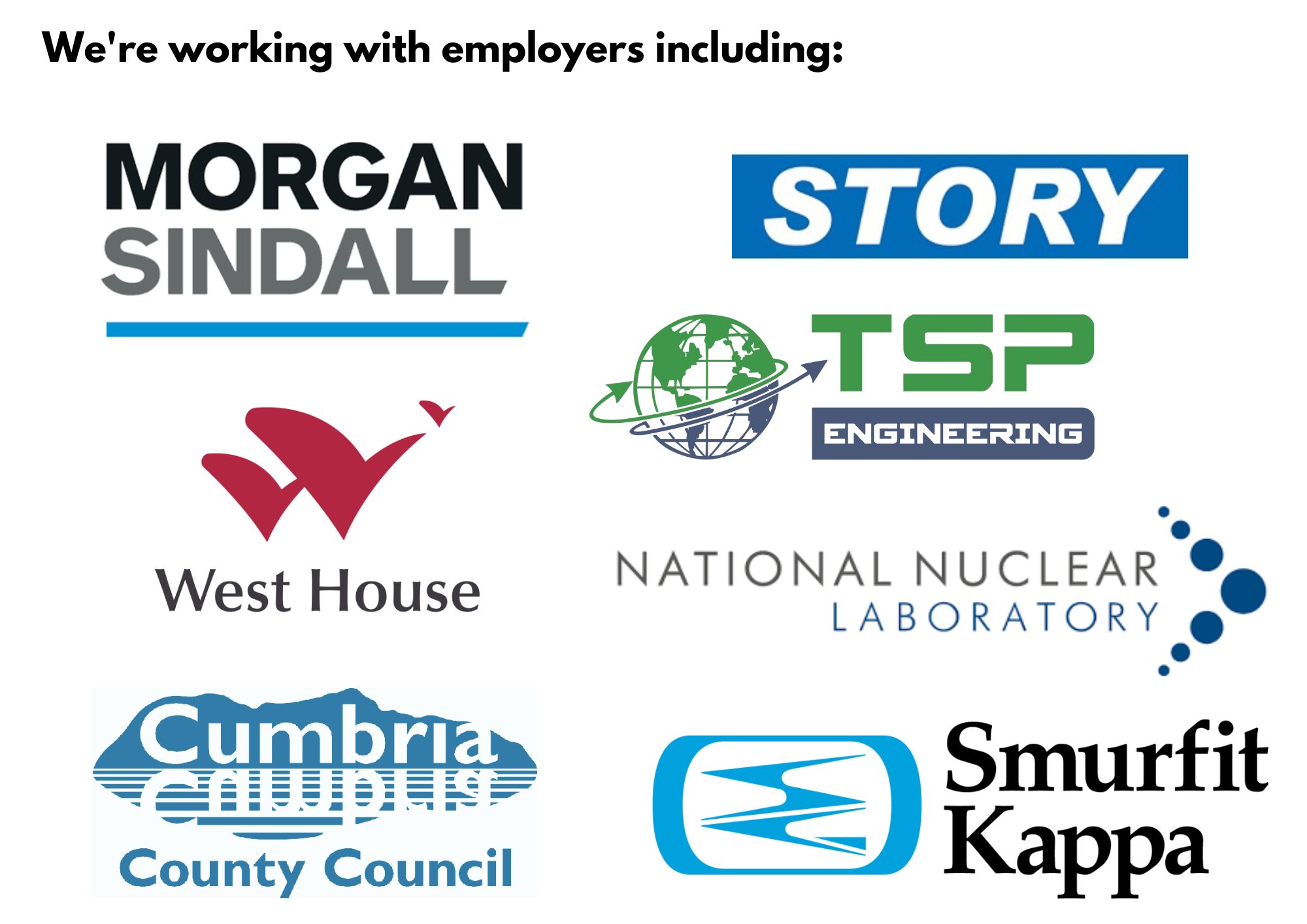 Apprenticeship vacancies
Join today to be in the running for roles including:
Civil engineering/built environment
Electrical maintenance
Quality engineer
Business admin
Mechanical and electrical engineering
Nuclear technician
Health physics monitor
Nuclear scientist or engineer
Adult care worker or practitioner
Early years
Why employers choose Lakes College
Final comments
During all steps, if any applicant fails to make it to the next stage, the dedicated admissions and careers team at Lakes College will offer one-to-one advice and guidance to secure an alternative option. Lakes College offers full-time courses covering a whole range of subjects.
See our latest mini guide here.
*Dates and details are subject to change. We will notify all applicants of any changes.
To find out more about the Apprenticeship Academy, call 01946 839 300, option 2.