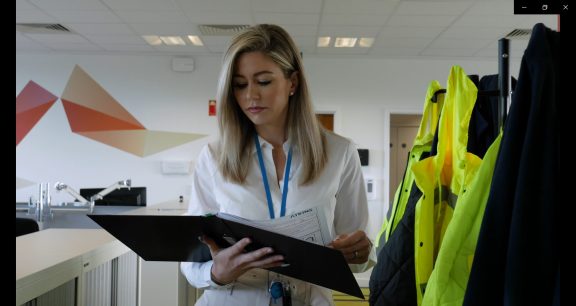 Decommissioning and Waste Management
SWAPPING a beauty salon for a nuclear site might not be a well-worn path, but it was the journey one west Cumbrian beauty therapist had dreamt of.
Martyne Simpson ran her own salon in the county until she decided to leave behind nine years of waxing and nail extensions to swap them for a hard hat and goggles in pursuit of her dream career in science and engineering.
Now a nuclear waste engineer at Atkins and helping others to follow in her footsteps, Martyne insists her remarkable makeover would not have been possible without Lakes College.
"I looked at the options available to me and I returned to Lakes College to study A-level chemistry," Martyne said.
"After qualifying with my A-level, I used the college's website to look at what science or engineering courses they had on offer, and I saw that they had started to offer university-level courses.
"Lakes College at the time was running the first university-level course, which was a Foundation Degree in Nuclear Engineering.
"I enrolled onto that and that was a three-year part-time course while I was running a successful beauty salon.
"At the same time, I also enrolled onto a one-year GCSE maths night class at Whitehaven School and, while I was running a business, was working full-time and undertaking two courses.
"It was extremely hard work and I needed quite a lot of self-motivation but it's definitely been worth it."
Spotting an opportunity to join the decommissioning services team at Atkins, Martyne applied, was invited to interview and was 'over the moon' when she was offered the job and could tick her dream career off the bucket list.
"That's how my career started and I'm now in a very challenging but rewarding career which nearly five years in I still absolutely love," she said.
As a Registered Scientist and a member of the Institute of Physics, Martyne has demonstrated her expertise and natural talent for her profession.
But she is not content to stand still and said she has continued to learn and develop since starting at Atkins.
Martyne returned to the National College for Nuclear at Lillyhall to undertake a Higher Apprenticeship and BSc (Hons) Degree Decommissioning & Waste Management, which was completed in March 2020.
After trying a variety of ways to get into the industry but making little progress, Martyne found that it was Lakes College and the National College for Nuclear which finally got her to achieve her vision, completing the journey from beauty therapist to nuclear waste engineer in a combined total of six years.
She said: "Lakes College and the National College for Nuclear offer fantastic courses, they've got a great support network and I definitely would not have the career that I have today without them as I never really wanted to move away from Cumbria to go to uni or anything like that.
"I'm quite a home person so the fact that we've got it on our doorstep now, we're very lucky."
Now Martyne hopes to inspire progressive change in the industry, which she does by actively participating in her organisations equality, diversity and inclusion (ED&I) group delivering their ED&I roadmap.
What's more, Martyne also had a voluntary role with Women in Nuclear who's mission is to improve diversity, increase the skills base in the nuclear industry by encouraging gender balance and to engage with the public on nuclear issues.
"Women need to see women in leadership roles," she said. "I'm seeing increasingly more females in the workplace which is great as gender balance plays an important part in the success of a business.
"Personally, I don't see any discrimination towards myself being in a male-dominated workplace.
"People sometimes act surprised when I tell them that I used to be a beauty therapist, but I think that's more to do with the fact that nuclear engineering and beauty therapy don't really go hand in hand."
And one way Martyne is helping to make a difference in the industry is by line managing and mentoring early career professionals to help them to follow in her footsteps.
Need more info?
Want to find out more about apprenticeships? Contact us on 01946 839300