Roadworks are set to be carried out at Harrington which will affect traffic to Lakes College starting from Monday, January 30th
The roadworks will last up to six weeks and students are advised to allow plenty of time to travel to college, especially on GCSE mock exam dates – Tuesday, January 31st and Thursday, February 2nd.
Stagecoach has recommended people catching a bus into college should get on an earlier bus, particularly at the start of the first week as disruptions are at their highest during the beginning of roadworks.
All bus passes including those issued by Cumbria County Council will be accepted if different routes need to be used.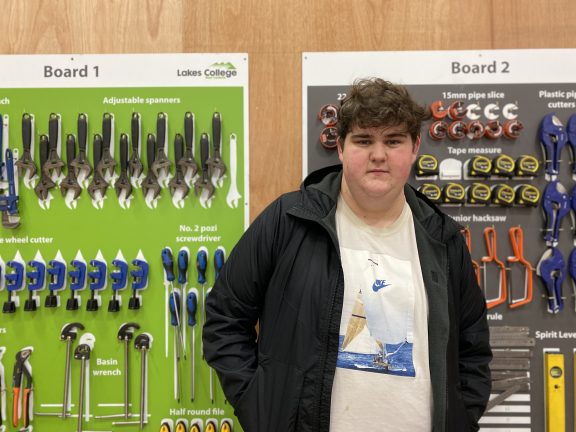 Level 3 Plumbing
FROM leaving secondary school with no qualifications to finding a trade for life, Lakes College has been life-changing for Aidan McFarland.
The Broughton Moor 18-year-old impressed so much on a work placement with R Stamper Plumbing & Heating Limited that the firm took him on as an apprentice in September.
He now studies a Level 3 apprenticeship, working four days a week in the industry and spending a day each week in college, earning a wage while completing his qualification.
It is an impressive achievement for someone who joined the college in 2019 after leaving school with no qualifications.
Aidan has transformed his career prospects since then, starting with a Level 1 multi-construction course while he achieved his GCSE maths and functional skills Level 2 in English.
That turned into a Level 2 plumbing qualification at the college and, having enjoyed the teaching and support from Paul Cullen and Victoria Harden, he decided plumbing was the trade he wanted to dedicate his life to.
"I am proud of the progression from starting with no qualifications in 2019 to my current role achieving my Level 3 qualification," he said.
"I've really enjoyed the teaching at the college and the change from secondary education to college FE really helped me.
"It enabled me to study something I enjoyed and find the right career path, so I stuck in.
"With the opportunity for work experience alongside my course it enabled me to focus on industry so then when the opportunity was offered specifically to me to progress to a L3 apprenticeship it was an obvious move."
Learning new things in a fast-moving role where no two days are ever the same has brought the best out of Aidan, who credits the college with 'changing the pathway of my life'.
He hopes to emerge from his apprenticeship fully qualified and stay with his employer – and urged others looking for advice on kickstarting their career to 'get your head down'.
"You have really got to focus and try to stick in to progress and make the most of yourself," he added.
Aidan found the learning environment at Lakes College more relaxed than school and enjoyed being 'treated like a grown up' and handed responsibility and control over his future.
Need more info?
Want to find out more about apprenticeships? Contact us on 01946 839300