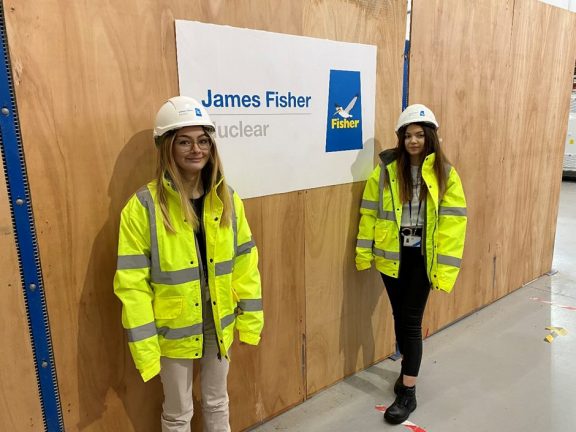 Level 4 Quality Practitioner
Employers have welcomed a new apprenticeship in west Cumbria which is meeting a gap in the market.
Lakes College developed the Level 4 Quality Practitioner apprenticeship to address a skills gap and James Fisher Nuclear is one of the firms already taking advantage of the opportunity to secure training for its workers.
Ryan Groggins, EHSSQ operations manager at James Fisher Nuclear, said: "In EHSQ there are very few industries that combine both health and safety and quality, so when looking at how I could recruit a readymade EHSQ Engineer I knew that this would be very difficult.
"I have always been a huge supporter for developing and mentoring younger personnel and when I saw that the college was starting a quality practitioner course I had a lightbulb moment that I could recruit an apprentice who would be fresh and be able to mould them into an EHSQ engineer.
"JFN has never had a EHSQ engineer apprentice but due to the calibre that the college found I succeeded in bringing in two apprentices.
"The collaboration we have with the college and the close working has been very pleasing; to know that the quality apprentices are gaining a great understanding into the work of quality and EHSQ."
Former Millom School pupil Alice Cookson, 18, is one of James Fisher Nuclear's apprentices.
She said: "The work is quite challenging but we do have a large team who know lots about quality so there is always someone to ask for help.
"An apprenticeship is a great way to start a successful career and have opportunities you never would have had."
Ella Dixon, 18, is also an EHSSQ engineer apprentice at James Fisher Nuclear and said the transition between learning at the college's Lillyhall campus and in the workplace was smooth.
"They both work closely together to ensure I get the best from the apprenticeship, and we have frequent meetings to discuss my progress and how I'm getting on within the job," she added.
"So far the most memorable moment of my apprenticeship is not only meeting new people who have all been lovely but being able to visit different sites with different team members."
Need more info?
Want to find out more about apprenticeships? Contact us on 01946 839300