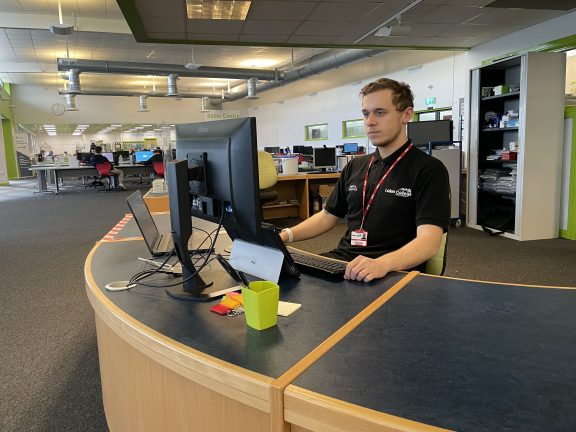 Level 3 Infrastructure Technician
LAKES College isn't just the trainer of the next generation of workers – it is also a major employer. 
The college at Lillyhall employs more than 200 full-time and part-time faculty and staff, and one of them is 21-year-old Ewan Beck. 
Ewan started as a learner at the college, studying a Level 3 Foundation Diploma in Computing BTEC and Level 3 Technical Certificate in Digital Technologies C&G. 
He started work full-time as a digital skills assistant for the college earlier this month, with responsibilities including providing first-level support to staff and learners, assisting with events and managing a ticket system to solve technical problems. 
It was through an apprenticeship that Ewan found himself in full-time work at the place where he had learned all of the skills and knowledge required for his new role. 
"Obviously with the apprenticeship you're building up that qualification that you need and the skills that you need for the job," he said. 
"The teaching staff were really good – phenomenal really – in terms of what they can help you to get through." 
Ewan came to the college after learning at Whitehaven School then the Energy Coast UTC at Lillyhall, and said he would not hesitate to recommend the college and apprenticeships as a good route into a career. 
He added: "Anyone coming to the college is going to be well-educated for whatever role it is. 
"The service that they provide is really good and gives you all the skills and knowledge that you need for the workplace. 
"It's a really good way of getting into work." 
Need more info?
Want to find out more about apprenticeships? Contact us on 01946 839300